09 | 05 | 2023
Metalenz and Vertilite Unveil "Starlight" Projector for Structured Light Applications using a New Meta-Optic
The Starlight projector is based on Metalenz' new "Orion 18K" pseudorandom dot pattern meta-optic paired with Vertilite's proven single-junction "Dolphin" VCSEL.
"Orion 18K" meta-optics brings unique advantages to the structured light sensing market, including lowest module height in the industry, highest dot contrast, seamless and precise dot pattern, part-to-part repeatability, and suitability for reflow.
Applications include face authentication for smartphones, contactless access control, security, gesture recognition, obstacle avoidance, and automotive in-cabin monitoring.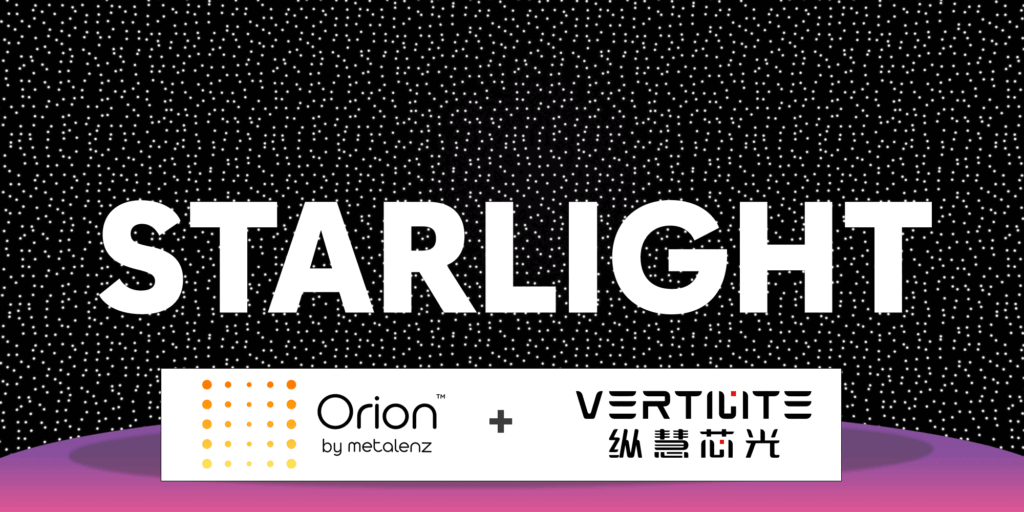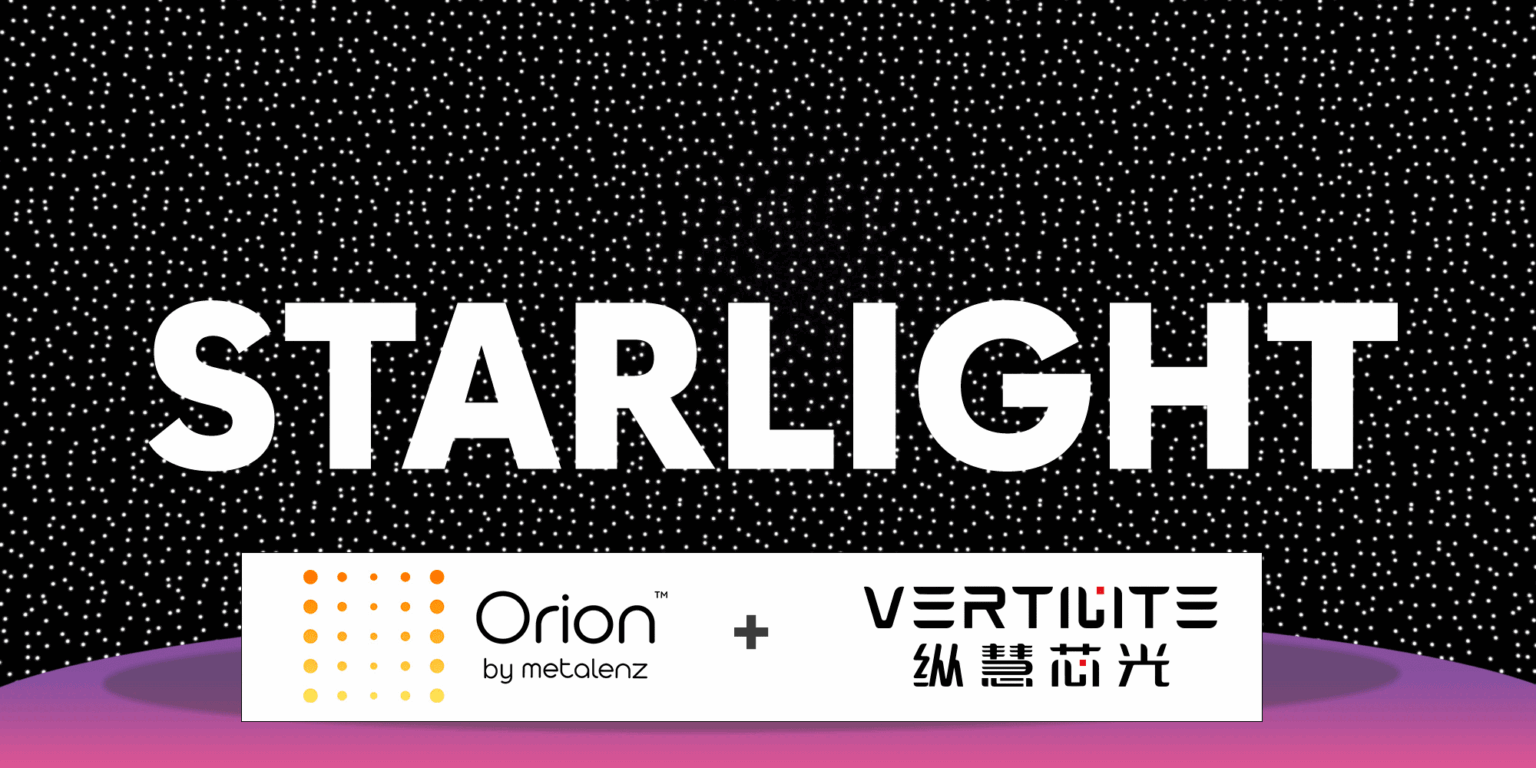 Boston, MA and Changzhou, China September 5, 2023 – Leading meta-optics provider Metalenz and VCSEL supplier Vertilite, announced their cooperation on a new, open market structured light projector at the CIOE tradeshow in Shenzhen, China. The Starlight projector consists of a new, wide field pseudorandom dot pattern meta-optic from Metalenz ("Orion 18K") paired with a pseudorandom VCSEL from Vertilite ("Dolphin"). The Starlight projector is the most compact, high performance, low cost structured light solution available for 3D sensing systems, catering to a range of applications including face authentication for smartphones, contactless access control, security, gesture recognition, obstacle avoidance, and automotive in-cabin monitoring.
The Starlight projector generates ~18,000 dots in a pseudorandom pattern at 940nm, using the Orion 18k meta-optic to collimate and diffract the light coming from 391 VCSEL emitters arranged in a pseudorandom array. The Orion 18k meta-optic dot pattern provides class leading power per dot with high contrast, making it suitable for use under any indoor/outdoor lighting conditions. Additionally, the Orion 18K meta-optic provides superior pattern precision, a very large field of illumination and is reflowable and stable at extended operating temperatures. Vertilite's Dolphin, a 1.5 watt 940nm pseudorandom pattern VCSEL array, is an ideal solution for structured light and active stereo vision 3D sensing applications. View STARLIGHT Sellsheet.
"We are excited to launch the Starlight structured light projector together with Vertilite. The unique performance advantages of our meta-optics combined with the power and efficiency of Vertilite's VCSEL create a structured light projector that is available to any OEM or system integrator to bring better, brighter, 3D sensing solutions to market." Lars Johnsson, VP of Product, Sales, and Marketing, Metalenz.
"We are delighted to partner with leading metasurface optics supplier Metalenz to deliver a new Structured Light projector that provides superior performance and is ready for worry-free integration. We believe the Starlight projector will further accelerate our market share growth in areas like biometric authentication, contactless access control, and robotics." Ryan Rao, CPO, Vertilite.
Learn more about Orion family of pattern projectors
About Metalenz
Metalenz, founded in 2016, is the first company to commercialize meta-optics. With an exclusive worldwide license to the portfolio of foundational intellectual property relating to metasurfaces developed in the Capasso Lab at Harvard University, Metalenz has more than 20 patents on innovations that simplify and improve optical devices across multiple markets. The company's metasurface technology provides complex, multifunctional optical performance in a single semiconductor layer, relocating large-scale production of optics to semiconductor foundries—printing lenses like computer chips. Following the successful June 2022 debut of its metasurface optics in time-of-flight systems for the consumer electronics market via a partnership with STMicroelectronics (NYSE: STM), and a $30 million series B funding round announced in October 2022, the company continues to grow with millions of its metasurface optics now in the market. A fabless company focused on design, Metalenz has recently announced a manufacturing partnership with United Microelectronics Corporation (NYSE: UMC), creating a direct supply chain for mass production of its meta-optics on the open market.
About Vertilite
Vertilite Co., Ltd. was founded in 2015. It is an innovative optoelectronic semiconductor company dedicated to providing high-power and high-frequency vertical cavity surface emitting laser (VCSEL) solutions for global customers. Vertilite focuses on the R&D and manufacturing of VCSEL chips, modules, and other products. Vertilite's high-quality product portfolio covers consumer electronics, automotive electronics, optical communications, and other fields.