07 | 10 | 2023
Metalenz and Dilusense Partner to Revolutionize the Optics and Performance of Structured Light Sensing Systems
Next-generation Smartlock and Payment Kiosk systems from Dilusense leverage the first mass-produced, structured light meta-optic from Metalenz, which can bring users an optimum experience.
The "Orion" meta-optic dot projector by Metalenz enables an improved structured light pattern with over 30,000 precise laser dots to enhance the biometric recognition performance of Dilusense's 3D sensing systems.
Boston, MA and HeFei, China, July 10, 2023 – Metalenz, the world leader in metasurface optics, and leading Chinese 3D sensing system supplier Dilusense, today announced that they have partnered to bring the unrivaled performance and small form factor of Metalenz meta-optics to the next generation of Smartlocks and Payment Kiosks to enable ultra-secure facial recognition. The Smartlocks are designed for high-end residential and commercial building access solutions, and the Payment Kiosks will be used by retailers and in vending machines across China, enabling ultra-secure biometric facial authentication in compact form factors.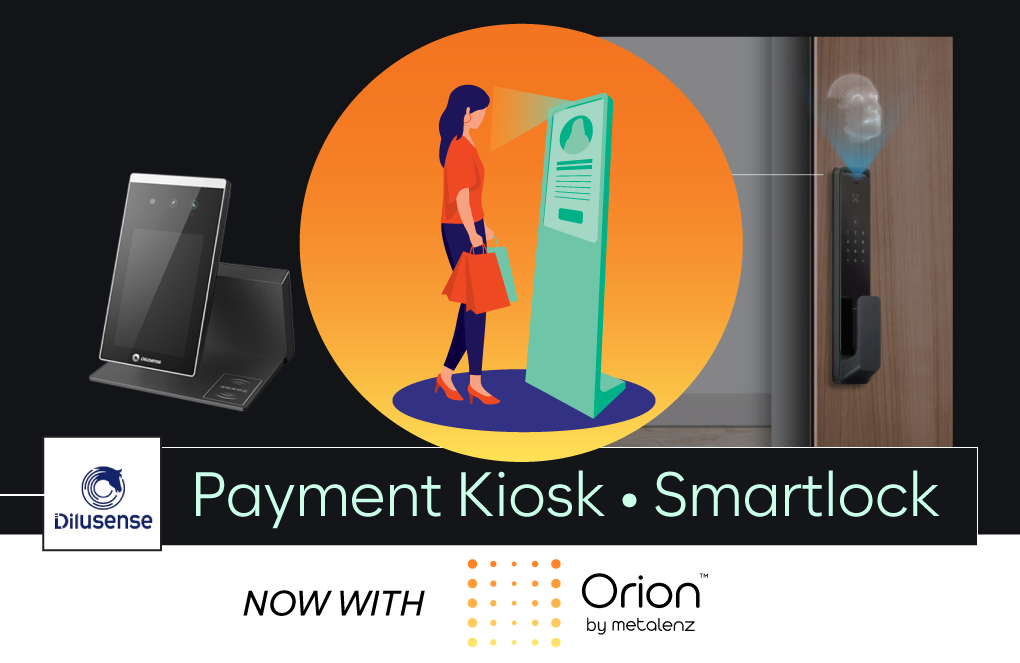 Secure facial authentication solutions use traditional cameras to recognize a user's face, and then take an additional 3D infrared image to authenticate the user against pre-registered biometric credentials. Using structured light, the 3D sensing system creates a point cloud made up of more than 30,000 individual dots and then measures pattern distortion to compute facial contours unique to everyone. As the optical sensor in this system, Metalenz's "Orion" meta-optic dot projector delivers unparalleled dot-contrast, pattern precision, and diffraction efficiency, improving the performance and increasing the security of the system.
The new generation of Dilusense's 3D sensing solutions provides secure and accurate biometric recognition performance, as well as convenient access. The meta-optics are custom-designed by Metalenz and are mass-produced by UMC in its 12″ wafer fab in Singapore as part of Metalenz's newly established direct-to-OEM supply chain.
"As one of the most innovative 3D sensing system suppliers for IoT devices and consumer electronics, we continuously invest in product development, focusing on safety, efficiency, and technological innovation," said Shi Lei, VP of Product, Sales, and Marketing at Dilusense. "Our partnership with Metalenz combines their optical technology with our full-stack product development capabilities to bring the market our most advanced 3D sensing solutions."
"We are thrilled to have Dilusense, one of the world's leading 3D sensing solution providers, as our first OEM customer to leverage the unique performance of metasurface optics," said Lars Johnsson, VP of Product, Sales, and Marketing at Metalenz. "The partnership between Dilusense and Metalenz heralds a new era in 3D sensing as it is the first time that the breakthrough capabilities of metasurface optics are commercialized in 3D structured light sensing systems, and this milestone will accelerate the proliferation of our meta-optics in the growing 3D sensing market."
About Metalenz
Metalenz, founded in 2016, is the first company to commercialize meta-optics. With an exclusive worldwide license to the portfolio of foundational intellectual property relating to metasurfaces developed in the Capasso Lab at Harvard University, Metalenz has more than 20 patents on innovations that simplify and improve optical devices across multiple markets. The company's metasurface technology provides complex, multifunctional optical performance in a single semiconductor layer, relocating large-scale production of optics to semiconductor foundries—printing lenses like computer chips. Following the successful June 2022 debut of its metasurface optics in time-of-flight systems for the consumer electronics market via a partnership with STMicroelectronics (NYSE: STM), and a $30 million series B funding round announced in October 2022, the company continues to grow with millions of its metasurface optics now in the market. A fabless company focused on design, Metalenz has recently announced a manufacturing partnership with United Microelectronics Corporation (NYSE: UMC), creating a direct supply chain for mass production of its meta-optics on the open market.
About Dilusense
Dilusense, founded in 2015, is one of the most innovative 3D sensing system suppliers for IoT devices and consumer electronics. As the first 3D vision full-stack technology enterprise to research and open up "perception + algorithm" in China, the company has highly independent and controllable intellectual property rights. Dilusense boasts the globally leading position in the five core technology directions of 3D structured light sensors, 3D face recognition, 3D target reconstruction measurement, dynamic 3D portrait capture and analysis, interactive and virtual digital humans. The core technologies and products have been deeply applied in financial security payment, intelligent door lock, rail transit, border inspection, security, and other industries, achieving large-scale applications. Dilusense is committed to the full-stack technology research of 3D sensing AI solutions.